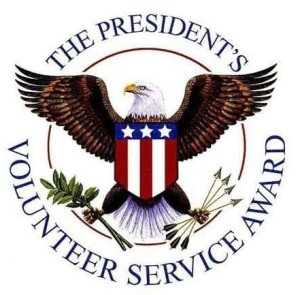 Volunteer Scholars is an approved Certifying Organization (CO) for the President's Volunteer Service Awards (PVSA). The PVSA is a prestigious national honor offered in recognition of volunteer commitment. Established in 2003, this award honors individuals and groups who have demonstrated a sustained commitment to volunteer service over the course of 12 months. Service hours can be accumulated on a variety of projects throughout the year.
The PVSA is awarded annually at the Bronze, Silver, and Gold levels. For many, earning one or more awards will be a noteworthy honor on future college or scholarship applications.
Volunteer Levels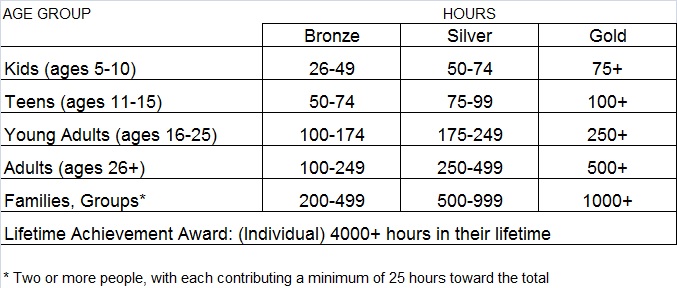 Eligibility

Membership Recognized volunteers must have a valid membership in Volunteer Scholars at the Gold or Platinum level to have their volunteer work reviewed and certified for the PVSA award.

Student Status
Members must be enrolled in public school, private school, parochial school, charter school, home school, online or virtual school, hybrid of these, or community college (through age 18).

Citizenship
Recognized volunteers must be US citizens or lawfully admitted permanent residents of the US.

Age
Students ages 6 through 18 can earn this award. A student must be age 6 by August 31 (in other words, the student may have completed some activities while 5 years old, but must turn 6 by the end of the award cycle). A student cannot turn 19 before March 1 of the award year (in other words, the student was 18 for at least 6 months and 1 day, or "more than half", of the award year.)

Aging Up a Level Mid-Year
PVSA has different award levels by age with increasing expectations as participants get older. There is a change in required hours between ages 10 and 11 (kids to teen) and between ages 15 and 16 (teen to young adult). For example, a 10-year-old needs to complete only 50 hours for a Silver Award, but an 11-year-old is expected to complete 75 hours for Silver. If a child is the younger age for more than a half-year, his/her hours will be submitted at the lower age. If the child ages up with more than a half year of the award year remaining, he/she will be counted at the new, older age. In other words, if a student turns 11 (or 16) on or after March 1, he/she may be counted as age 10 (or 15) for the award year. The Volunteer Scholars administrator will make this designation during the hours review.

Join Volunteer Scholars at the Platinum or Gold membership level to begin working on your PVSA award!
Tracking & Submitting Volunteer Hours

Tracking Hours
Volunteers must track and itemize all of their volunteer hours on the Volunteer Activity Log which is fillable pdf form.


-Contact information at the top of the form must be completed.


-Individual volunteer tasks must be typed into the form.


-Users may print out a hard copy of the log to track volunteer work by hand throughout the year, but the final version submitted to Volunteer Scholars must be typed into the cells of the form.


-Users should save the pdf form to their own computer/device and add their own names as extension such as, "Volunteer Activity Log- John Doe" before entering data.


-Users may not alter or reformat the form as it is set-up to import data into the PVSA system by Volunteer Scholars.


-Please note that the hours entered on each page will not fill or total automatically. The applicant is expected to subtotal the hours recorded on each page and enter the total number of hours worked towards the award on the first page. All calculations of hours will be verified.


-The Volunteer Activity Log must be returned to Volunteer Scholars by e-mail a pdf attachment.


-Volunteer Scholars cannot accept Google Sheets, Excel, or other electronic formats, nor can Volunteer Scholars accept faxed, photographed, scanned, or handwritten copies of the log.

Itemized Details
Volunteer hours worked must be entered in the Volunteer Activity Log in discrete entries noting the date worked, hours worked, activity description, and beneficiary organization.


As an example, instead of entering "12 hours- Boy Scouts", our reviewers must be able to see specifics like:

March 3, 2019, Park Clean-Up, Boy Scouts, 3.0 hours.
April 4, 2019, Canned Food Collection, Reston Food Bank, 4.0 hours
May 5, 2019, Built Birdhouses, Meadowlark Gardens, 5.0 hours

Submitting Hours
All volunteer work for the award year must be entered and submitted on the Volunteer Activity Log by 11:59 by on August 31.
Volunteer Scholars PVSA Requirements

Award Year
The Volunteer Scholars award year shall run from September 1 through August 31 each year. The Volunteer Activity Log must be submitted via e-mail by 11:59 pm on August 31, no exceptions. Hours entered after than time cannot be counted for the closing year, nor can they be carried forward to the next year.

Review/Acceptance of Hours
Volunteer Scholards will review all service hour entries and maintains the right to contact beneficiary organizations to verify volunteer work completed. Volunteer Scholars may reject any entries that are incorrectly documented, unsubstantiated, or that are of an excluded type of participation.

Receipt of Awards
Awards will be sent to recipients in a padded envelope by USPS Priority mail in mid/late October.

Cost of Awards
Volunteer Scholars will pay for and furnish the medallion package (customized parchment certificate and medal on neck ribbon) for all members who complete requirements for the PVSA. Neither members or non-members are permitted to pay for their own awards or order award items that they earned outside of the Volunteer Scholars program. Members can elect to pay for replacement certificates or replacement medallions in the case of lost or damaged items or pins and coins to enhance their award package.
What Counts as Volunteer Service?

Type of Community Service
Volunteers may perform any type of community service that they wish. Major service categories suggested by PVSA include: education, healthy futures, environmental stewardship, veterans and military families, economic opportunity, disaster services, and more.

Double Dipping/Double Counting Service Hours
Community service hours counted towards the PVSA do not need to be uniquely earned for this award. Hours completed through or required by Boy Scouts, Girl Scouts, National Honor Society, Beta Club, church, or similar civic or community initiatives, may be applied towards a PVSA award, even if they are performed towards earning another award or recognition.

Self-Organized Work
Community service work does not need to be done through an organization or established program. Self-initiated service work such as an individual's or family's commitment to cleaning up a park or stream, can be counted for this award. Volunteer Scholars may ask for additional details or documentation on self-initiated projects.
What Does Not Count as Volunteer Service?

Court-Ordered Service
Volunteer service mandated by a court cannot be counted.

Unused/Rollover Hours
Volunteer hours must be completed in the 12 month award period. Unused hours may not be "rolled over" to the next award period. The exception is the Lifetime Achievement Award which is cumulative across multiple years.

Paid Work
Volunteers must not receive any compensation or stipend for the community service hours.

Monetary/In-Kind Donations
Monetary or in-kind donations to an organization do not have a volunteer hour equivalency and cannot be counted.

Unpaid Student Work
Not all unpaid student work can be counted as volunteer, community service work. Unpaid work in a for-profit place of business, such as an office or medical practice, is considered an internship experience and shall not count as volunteer work because the student's effort would benefit a business rather than a charitable effort. Read below for exception for volunteer sports/dance teaching assistants.

Teaching Assistants/Junior Coaches/Counselor in Training (Dance, Martial Arts, Camps, etc.) A student who serves as a junior or assistant instructor, coach, or camp counselor may be able to count time spent teaching classes to younger students, even if the studio/camp/sports organization is a for-profit business if there is no in-kind compensation. The student coach/teaching assistant/counselor must not receive any benefits such as free or reduced tuition/class fees, belt testing, or other no-cost benefits. Any student who submits volunteer instructor/coach hours of this type as volunteer work must also submit a letter from the studio/camp signed by the owner or head coach stating that the volunteer did not receive any of the benefits list above or similar in exchange for his/her volunteer work.

Work for Family
Unpaid work for family is usually not counted as volunteer work. Mowing the lawn for your parents, babysitting for a family member, or washing a car for your grandparents is considered a contribution to your own family and not volunteer work that benefits the community. Work in the family's business is not usually considered volunteer work.

Live-In Exchange Student
Activities and interactions with an exchange student who is living in your home is generally not considered volunteer work. Eating, running errands, taking trips, going on outings, and doing ordinary activities of daily life when accompanied by an exchange student does not transform such activities into a volunteer role (since you would likely be doing these things anyway, without an exchange student.)

Fostering Animals
Activities related to the direct care and keeping of foster animals, such as feeding, watering, bathing, exercising, grooming, accompanying to vet appointments, or cleaning up after the animal can count toward the PVSA award. Activities related to adoption services for foster animals, such as creating promotions or working at adoption events, can be counted. However, if the applicant is sheltering a foster animal(s) at home, he/she cannot count ALL hours that the animal is sheltered or housed as volunteer time. For example, fostering an animal for 7 days does not yield 168 hours of volunteer time because not all hours of the day are devoted to the care and keeping of the animal.

Marches, Rallies, Protests
Participation in marches, rallies, or protests shall not count as volunteer hours.

Religious Instruction, Worship Service
Performing religious instruction, conducting a worship service, and proselytizing shall not count as volunteer hours. For example, volunteering as Sunday school or religious education assistant or work as an alter boy may not be counted. Community service done through a place of worship such as food drives, meals for the homeless, soup kitchens, clothing collections, etc., can be counted.

Attendance/Participation in an Organization
A student's attendance at regular meetings or participation in events of an organization that he/she is a member of, such as a Girl Scout meeting or 4H field trip, are part of being a member of that organization and do not count as volunteer hours. However, service projects or charitable work done through one of these organizations, such as a youth group visit to a nursing home or Boy Scouts cleaning up a park, can be counted.

Fundraising
Hours spent on fundraising activities for a member's own organization cannot be counted as service. For example, time spent earning money through the sale of Boy Scout popcorn, Girl scout cookies, honor society pizza day, etc., cannot be counted as community service. However, efforts expended to raise money for another charitable organization, such as a carwash or lemonade stand to raise funds for the animal shelter or cancer society, can be counted.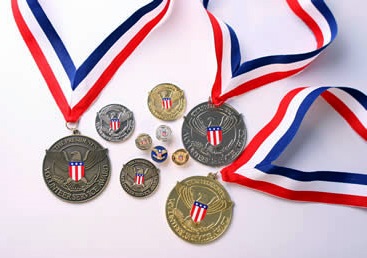 For more information or questions on the PVSA, contact the Volunteer Scholars awards administrator at info@volunteerscholars.org